Lebo, KS Pharmacies
Allegre Rexall Drugs
Allegre Rexall Drugs has been providing emergency prescription services to Lebo, KS since 1926. We also offer Medicare Part D Prescription Drug Plan. We give full pharmacy services including asthma and first aid supplies, generic drugs, vitamins, as well as diet and nutrition.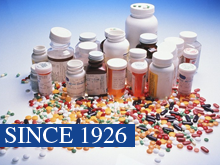 Learn More About Allegre Rexall Drugs:
Full pharmacy
Asthma supplies
First aid supplies
Generic drugs
Vitamins
Diet
Nutrition
Contact Allegre Rexall Drugs today at 620-256-6122.
Hours of Business:
8:00 am - 6:00 pm
Monday - Friday
Saturday : Open until 1:00 pm